Cheap Massage chairs: Discover Budget-friendly options
A massage chair is a great investment in relaxation and well-being, but you don't necessarily have to get deep into the pouch to be able to buy one. There are various price categories available, ranging from budget-friendly to luxury. In this blog we discuss the different price categories and what you can expect with budget-friendly options.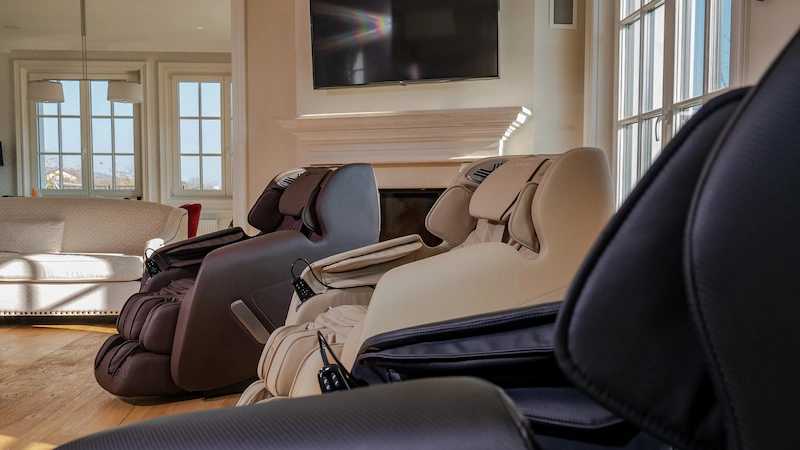 Budget-friendly massage chairs
Budget-friendly massage chairs are plentiful and offer a lot for your money. They are ideal for people who want to enjoy the benefits of massage without breaking the bank. What can you expect from these options?
Basic massage functions: Budget-friendly massage chairs usually offer basic massage functions such as kneading, rolling and beating. They can offer targeted massage for back and neck pain.
Simple operation: these seats usually have simple controls, such as a remote control, to adjust the massage settings.
Limited extras: with budget-friendly options, additional functions such as adjusting intensity may be limited or not present.
Massage chairs in the middle range
In the middle reach you get more advanced massage chairs with extra functions and improved performance. These are some advantages of seats in this price category:
More extensive massage options: Middle class chairs often offer a wider range of massage techniques, including Shiatsu, knock massage and more.
More adjustment options: You can expect these seats to offer more adjustment options for massage intensity, speed and specific body parts.
Extra functions: Some seats in this price range can have additional functions such as more heating options, air pressure massage and more extensive massage tracks.
Massage chairs in the luxury range
Luxury massage chairs offer the ultimate massage experience, with a wide range of advanced functions. The benefits include:
Extensive massage options: These seats offer a wide range of massage techniques and often have more advanced massage rolls.
Full adjustment: ** You can adjust almost any aspect of the massage, including the position of the massage rolls and the intensity.
Extensive extras: Luxury seats usually have an abundance of extra functions, such as extensive adjustment options for the intensity, making and storing programs and many other extras.
Laat Komoder je Helpen bij je Keuze
Het kiezen van de juiste massagestoel kan een uitdaging zijn, vooral als je een specifiek budget in gedachten hebt. Gelukkig staat Komoder klaar om je te helpen bij het vinden van de perfecte massagestoel die binnen je budget past. Met ons deskundige advies en ons assortiment stoelen in verschillende prijscategorieën kun je genieten van de voordelen van een massagestoel zonder je financiën te belasten. Ontspanning is binnen handbereik, ongeacht je budget.