Zero Gravity Massage chair for ultimate relaxation
Imagine that you nestle in a chair and float at the push of a button, almost weightless. This is the feeling that a Zero Gravity massage chair can offer you. But what exactly is a Zero Gravity massage chair and what benefits does this luxury chair bring? In this blog you will discover everything about the operation and benefits of a massage chair with Zero Gravity.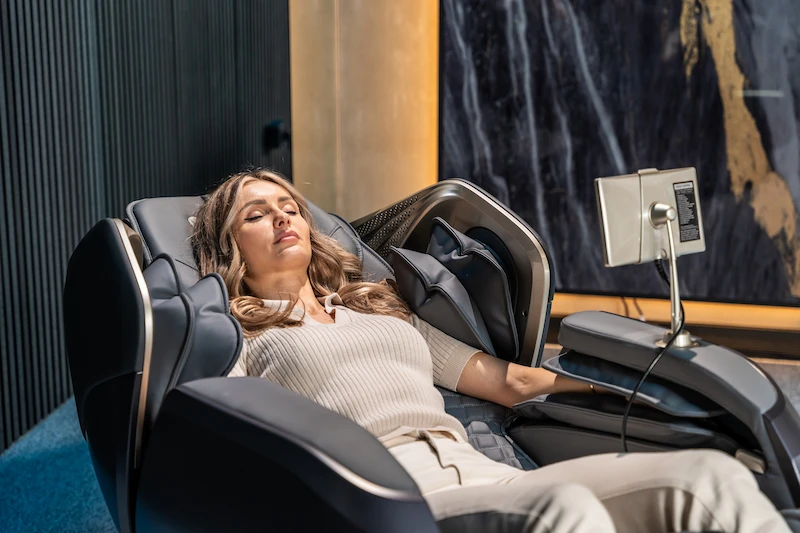 What is a Zero Gravity Massage chair?
A Zero Gravity Massage chair is inspired by the attitude of astronauts in space. In this position your legs are placed slightly above your heart, which ensures a balanced weight distribution and less pressure on your backbone and muscles. The Zero Gravity position ensures ultimate relaxation of your body.
How does it work?
When you activate the Zero Gravity function of the chair, the backrest tilts back and your legs are raised. This puts your body into an ergonomic and relaxed position. You can then enjoy an extensive massage, where the massage rolls and air cushions in the chair massage strategic pressure points in your body.
Advantages of a Zero Gravity Massage chair:
Deep relaxation: the Zero Gravity posture ensures a deep relaxation of your muscles and joints. It reduces the pressure on your back and helps to release tension.
Better massage experience: In the Zero Gravity position, the massage rolls and air cushions can better reach and massage your body. This results in a more effective and more pleasant massage.
Improved circulation: The increased position of your legs helps to improve blood circulation. This can contribute to a better oxygen supply of your muscles and tissues.
Stress reduction: the relaxing zero Gravity position and the massage functions help to reduce stress and release endorphins, the "happiness hormones" of your body.
Conclusion
If you are looking for the ultimate relaxation and luxury in your own house, consider a massage chair with Zero Gravity. And the good news is that Komoder can advise you on the purchase of such a chair. Let your body spoil and enjoy the benefits of a Zero Gravity Massage chair - the perfect way to escape from daily stress and tension.