Office Massage Chair for a productive working day
A day at the office can be quite stressful, with long hours behind the desk and the pressure of deadlines. But what if there was a way to reduce the tension and increase productivity? A massage chair in the office can be the solution. In this blog we discuss the positive effects of a massage chair at the office for employees and we also look at the costs of chair massages at the office.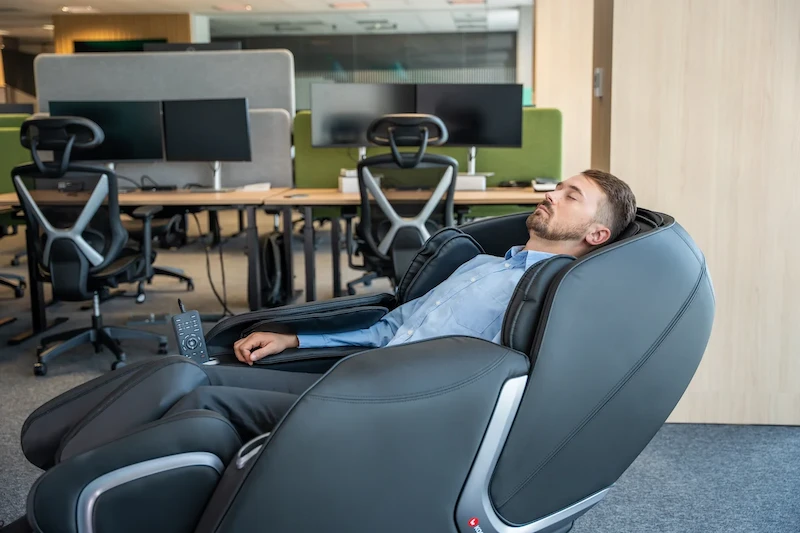 Stress reduction: one of the most striking benefits of a massage chair in the office is stress reduction. Regular chair massages can help reduce tension in the muscles, release endorphins and reducing stress levels. This leads to a relaxed and calmer working environment.
Improved productivity: Relaxed employees are often more productive employees. When the stress levels decrease and the muscles are relaxed, employees can concentrate better on their duties and work more efficiently.
Lighting of physical complaints: Long hours behind a desk can lead to physical complaints such as back pain, neck pain and tired muscles. A massage chair can help relieve these complaints and promote overall health.
Moral Boost: Offering massages at the office shows employees that their well-being is important for the company. This can increase the moral of staff and ensure a more positive working environment.
Cost of massage chair at the office
Now that you know the benefits of a massage chair in the office, you may be wondering about the costs. The costs of chair massages in the office can vary, depending on various factors, such as the frequency of the massages and the number of employees who benefit from it. In general, however, the costs are relatively low compared to the benefits it can offer. It is an investment in the well-being and productivity of the staff, and many companies consider it a valuable edition.
Conclusion
A massage chair in the office can be a powerful way to reduce stress, increase productivity and improve the well-being of employees. It is an investment that not only benefits the staff, but also to the overall business results. And the good news is that Komoder can advise you on the purchase of such a chair.So why wait? Consider offering chair massages at the office and give your employees the opportunity to enjoy a stress-free and productive working day.